If you're looking for ways to record your favorite music from YouTube on your computer in mp3 format, then you are on the right page.
Whether you are a Mac or Windows user, there's a way to get that done in the highest audio quality and in whatever audio format you desire. All you need is audio recorder software that is up to the task.
Replay Music is a legit audio recorder you can use to record music from YouTube to your computer. It provides a fast, safe, and secure means of obtaining high-quality audio from a YouTube video.
Many YouTube to mp3 converters and downloaders offer low-quality audio conversion, while some install malware when you use them to download YouTube videos. With Replay Music, you can rest assured that you're getting the best Applian offers.
You can also use the fantastic audio recording software to record sound from other sites on the web besides YouTube. So whenever you want to capture sound from an online video, use Replay Music! In this post, you'll see how to quickly and safely record music from YouTube to your computer in high quality. If you love options, keep reading to see other free and paid YouTube to mp3 converters. Let's get to it!
How to record audio from YouTube using Replay Music
Replay Music is an Applian software for YouTube audio recording, and you can use it to record music from Soundcloud, iTunes, Pandora, and other streaming websites.
Replay Music has useful features that make it the best software to capture audio from YouTube and other sites. Here's a quick overview of the features.
You can easily record and save multiple songs from YouTube playlists individually.
It saves media with its correct media information, lyrics, and artwork in the highest possible quality.
The software also recognizes noise from recordings and eliminates them, so your desired recording is as crisp and clear as possible.
It has a simple and intuitive interface that is easy on the eyes and works as expected.
With the added advantage of choosing where to store your recordings locally, Replay Music sets itself apart from online converters. It would only have you save the files to the downloads folder instead of offering the choice to store them in a custom folder within your computer.
Follow these 5 easy steps to use this application for capturing audio from online videos.
1. Download Replay Music from Applian.com
Go to https://applian.com/replay-music/ to download either the Windows or Mac version of Replay Music. The setup application is quite small (about 13 MB).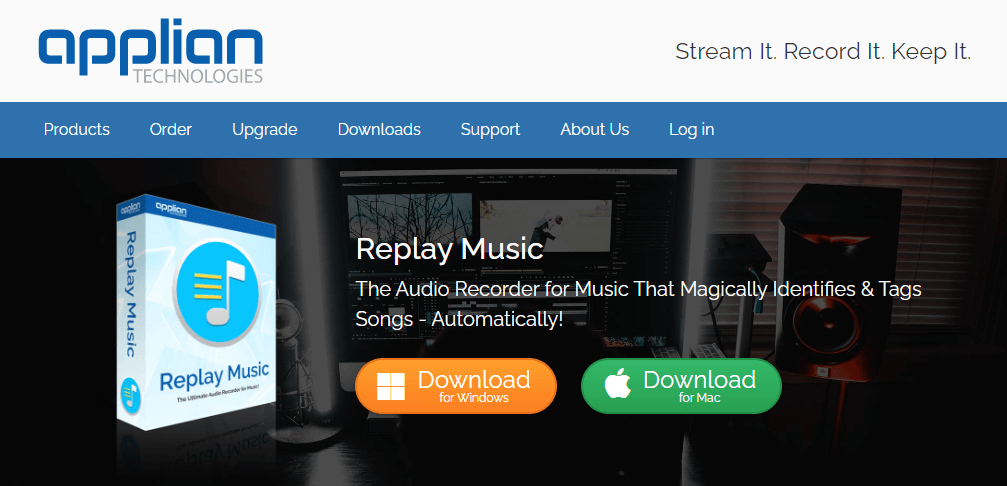 You can start with a free trial to test the features and then upgrade later for advanced features. Remember to run Replay Music first before playing your YouTube audio.
Once you've successfully installed a free trial or licensed version of Replay Music onto your computer, run it to install it. The installation also takes seconds, with very few clicks. After setting it up, you can continue in demo mode or buy more features as you desire.
You'll then play your YouTube music then start recording.
2. Click the green icon on the top left labeled "Record."
Before clicking record, play your YouTube music video.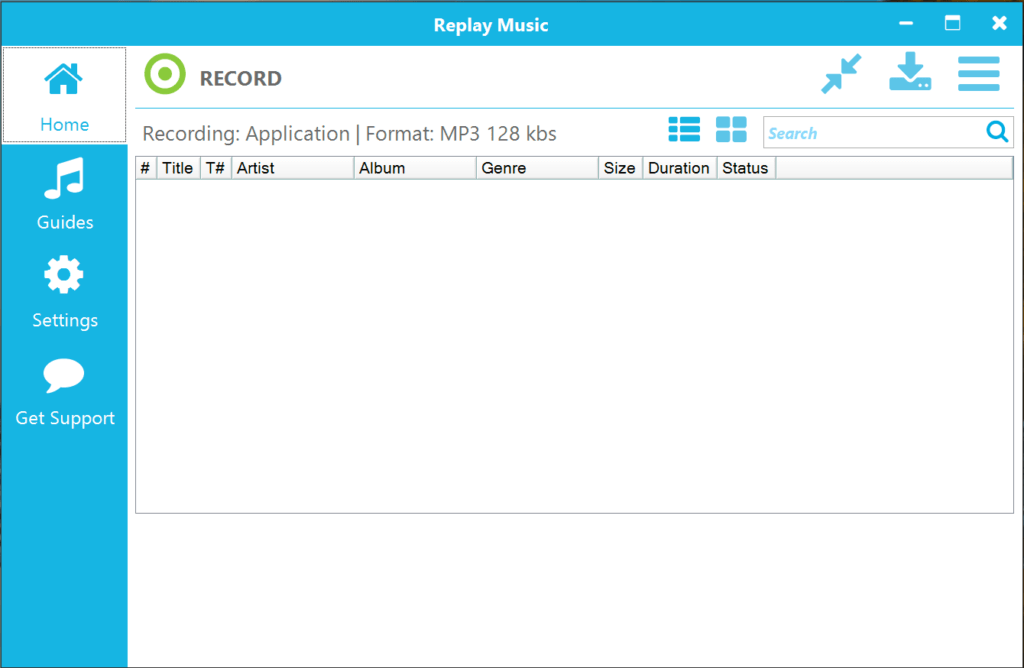 Once you click Record, it will prompt the software to display a window allowing you to input certain key information about your recording.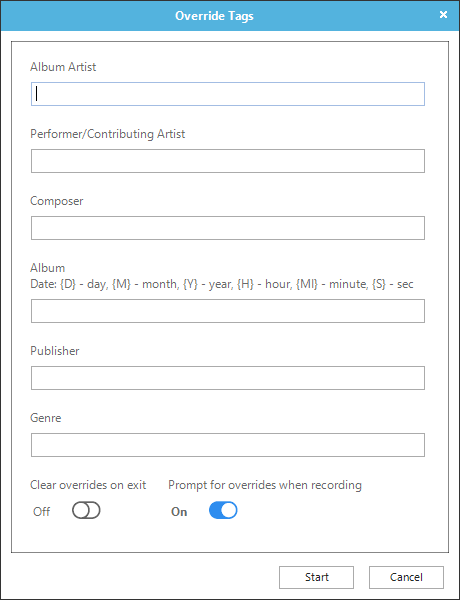 You may input the information required or skip to the next step.
Whether you add details here or not, Replay Music will use the right audio info when saving your recording. It'll get the info from the YouTube video.
You can choose where you want to save the audio by clicking on the "output folder" icon at the top right end of your screen.

Ensure the currently active tab on your browser is the one that's playing the YouTube music video. It'll help Replay Music gather the right information about the audio recording and name it accordingly.
3. Click Start at the bottom of the prompt window
Simply add the artist's name and click Start.
Clicking the Start button prompts the software to start recording. You'll get a notification whether you want to record audio from Chrome or whichever browser you're using to access the YouTube website.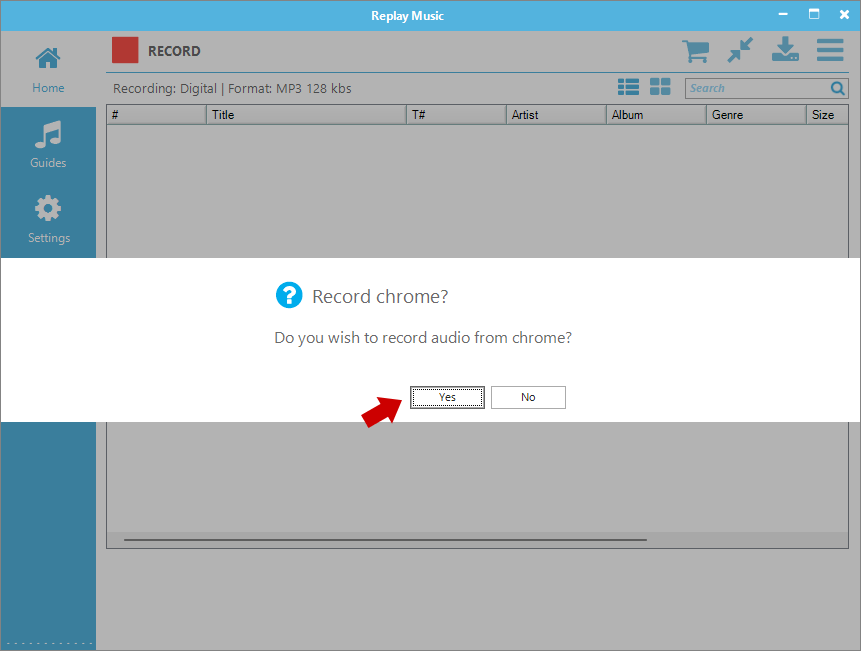 Click "yes," then watch Replay Music capture audio for you.
4. Once finished, click the red "Stop" button on the top left of the screen.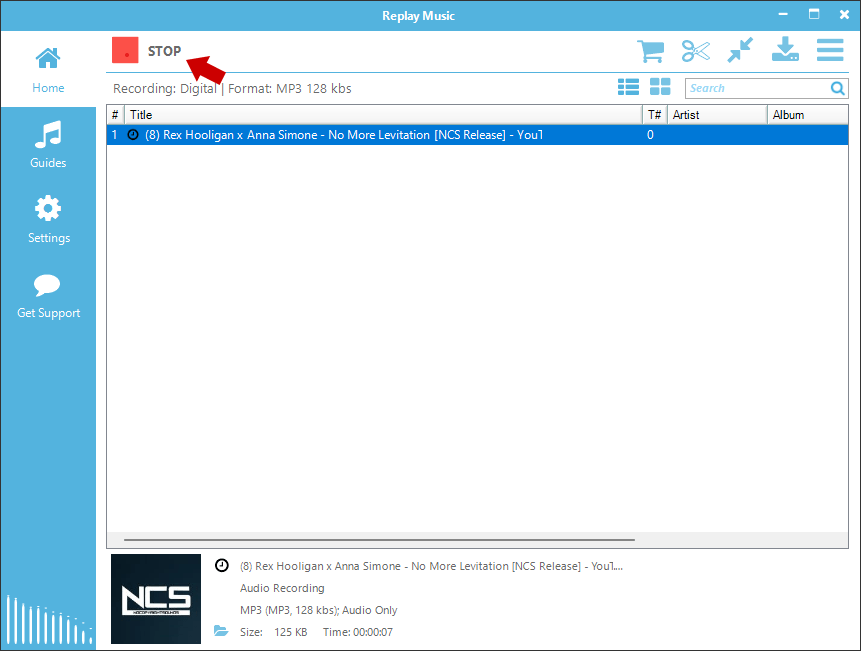 Once you click Stop, Replay Music will finish capturing your audio. You should find that the recorded audio has been automatically updated with its media art and info, such as lyrics.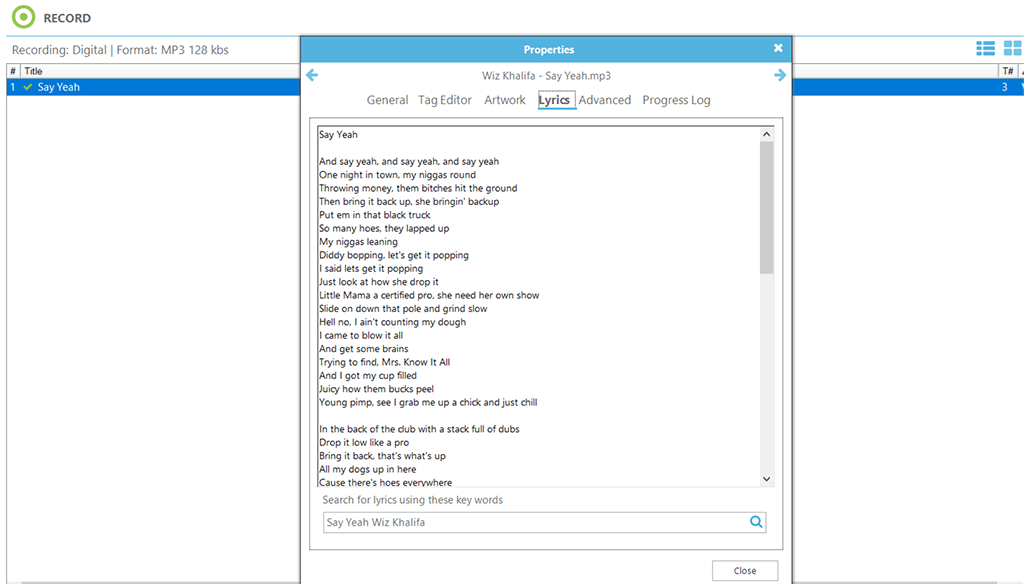 Alternatively, you could use the "Guides." feature to record YouTube audio from other sites such as iHeart Radio, Deezer, Pandora, and many more.
5. Click the "Guides" section on the left panel.
Clicking one of these options will open a tab on your browser that takes you to the service's website. You can then record music, meetings, or podcasts from the pages you've opened.
After recording your audio files, you have the freedom to view, edit information about the track or share your recorded content.
Other ways to record YouTube music on Mac or Windows PC.
You can capture sound from YouTube and other sites using online YouTube downloaders and mp3 converters such as Y2mate, Stacher, Acethinker, noTube, and iTubeGo.
Some online converters offer simplicity, while others are bundled software with loads of extra features.
Let's look at these different examples and how they compare to Replay Music.
Y2mate
Y2mate is a YouTube to mp3 converter. For the most part, this converter is simple and easy to use, but it lacks certain features that Replay Music offers, such as the automatic merging of media info like lyrics or album art to one's songs.
This service will not distinguish between the types of media one records but instead will save each recording as if it were any other download.
But Replay Music identifies the type of media you want to record and attaches the corresponding metadata.
Y2mate also has unwanted pop-up ads that could cause malware by redirecting you to external URLs.
Stacher
Stacher offers various formats for downloading music from sites, but it might prove tedious. The software uses tiny fonts, which could be a problem for most users.
And the software is quite large, which takes time to download. Like Y2mate, this service will not add media info to your recordings.
noTube
This converter offers MP4 as the default format for your YouTube music. You would have to deselect it and change it to MP3 format.
As you use it, you'll notice the process to be simple, but since it is an online service, it does not offer the option to choose where to store one's recordings and instead saves them onto the download folder by default.
Suppose you wish to record multiple files simultaneously. In that case, you're disadvantaged as you can only copy and paste one link at a time onto their search bar.
ITubeGo
ITubeGo lets you capture audio files from Youtube and other sites via their software. Yet again, this software is large, unlike Replay Music, and would take ample time to download.
Their service does not offer media info on the recorded music or media. Their application is cluttered with clunky UI, making the recording tedious.
Wondershare Uniconverter
Wondershare is popular among users who wish to download songs from a YouTube video page due to its extensive features and fast download speeds.
It offers no ads on its platform but does fall short compared to Replay Music since it does not offer a free trial version.
YT5s
This online converter is simple but has unwanted ads and an unattractive interface. It does not seem to offer the choice of various formats for conversion, and you would have to be equipped with an ad blocker to try and remove ads.
You can get your music by pasting a YouTube link onto the search bar and downloading it to your computer.
SnapDownloader
This popular YouTube to mp3 online converter is unique in that it does not limit the length of video one can convert. You can get audiobooks, podcasts, interviews, and more from the platform. You can record music from sites beyond YouTube.
A major disadvantage is that it does not offer a free plan and the trial version only lasts up to 48 hours.
ByClick Downloader
This YouTube to mp3 converter performs just like many on this list. It offers the ability to download multiple YouTube videos into mp3 format.
However, the site does not disclose that its software does not offer support for converting videos over one hour long.
Any Video Converter Freeware
As the name suggests, this converter is intended mainly for editing videos but can also convert them to mp3 format. It offers a wide range of audio formats and has no ads on the platform.
Nonetheless, Any Video Converter Freeware is bundled with extra software that one may find unnecessary and cluttering.
YTD Video Downloader Pro
This downloader is one of the more slow options when it comes to conversion speeds and also lacks aesthetics, but it offers ease in its use.
It is quite a lot of work to download an entire playlist and manually convert each track to mp3. The free version has limited features compared to Replay Music which offers a lot of options.
ClipGrab
ClipGrap is an easy-to-use free option for turning your YouTube videos into mp3 audio files. The application is simple and seems to be ad-free, but it sorely lacks features.
A major letdown is that the application comes bundled with Opera browser, an added software not needed in the package.
4K YouTube to MP3
4K YouTube to MP3 conversion software is geared towards providing quality audio from YouTube videos. It has a friendly user interface and is easy to use.
One particular downside of this software is that you are limited to only three consecutive downloads unless you opt for the Pro subscription plan.
YtMP3
This online video converter turns YouTube videos into audio. It offers minimal features like multiple downloads or embedded media info. It is much more suited for one-time users and doesn't support links from sites other than YouTube.
Once again, storing your recorded music in a custom folder is unavailable.
Takeaway: Effortlessly Record Music from YouTube to Your Computer with Replay Music
To capture YouTube audio, you only need the YouTube URL and your trusted software—Replay Music.
It is the best option when you want to convert YouTube videos to audio. The software is safe to use and is standalone.
You can download streaming audio and online videos, such as podcasts and video meetings, in your desired format.
It offers many valuable features and records audio in high quality, so they're available for you offline. Look no further than the credible software Replay Music for your audio recording needs.
Get a free trial copy of Replay Music and test these incredible features yourself.