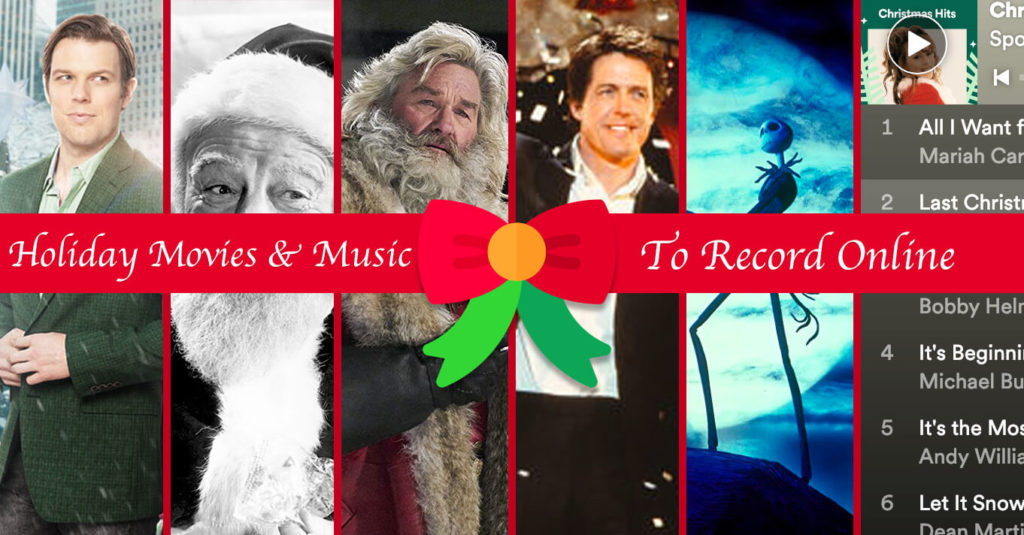 The holidays are here!  Which means a lot of sweets, spices, snow (if you're lucky), and fun things to keep you warm and cozy while you are spending your frosty winter days inside.
Whether you are into cozying up with some old (and new!) favorite holiday movies, or if music is your favorite way to get into the holiday groove,  we've rounded up some of the best movies and playlists to keep you company while you spend those toasty, cozy days at home. We've got you covered with the Replay Video Capture and Replay Music, so you never miss a thing!
Holiday Movies to Stream & Save:
Christmas Inheritance (2017), Netflix 
In what could essentially be just another sappy holiday movie in a stacked lineup of sappy holiday movies comes a holiday flick with real heart. An heiress to a toy charity takes a break from her hot mess big-city socialite life to help her father by delivering a special letter to a small town, in a long-held Christmas tradition. After a series of events keeps her stranded in the remote village, she learns the true meaning of giving and finds her own value in the process. 
The Christmas Candle (2013), Netflix 
In this British holiday period piece, a young, disillusioned minister comes to a small hamlet to help modernize the residents there, who faithfully believe that a special candle chooses one person to receive a miracle every 25 years. After a series of mishaps happen, both the minister and the townsfolk learn about faith and miracles, and the true meaning of Christmas. 
The Holiday Calendar (2018), Netflix 
In this new holiday offering from Netflix's newest holiday lineup, Abby is a struggling photographer who receives a magic Advent calendar as a gift that seems to reveal a bit of the future each day. But will her future hold the life and love she's been hoping for?
A Christmas Prince: A Royal Wedding (2018), Netflix 
If you are still getting residual feels from this year's slew of royal weddings, you're in luck, and just in time for the holidays!In the aptly named sequel to "A Christmas Prince", "A Royal Wedding" is a follow-up to last year's runaway holiday hit that follows Amber's upcoming wedding to the prince she met last year. 
Miracle on 34th Street (1994), Hulu 
Can we still call it a classic, even if it's not the original? This movie offers the timeless story of a little girl who befriends a kindly department store Santa, even as she struggles with her own belief in the real Santa Claus. A must-watch for anyone who still wants to believe. 
The Christmas Chronicles (2018), Netflix 
In this funky, upbeat take on the classic tales of Santa, this caper follows the adventures of two kids, who don't believe in Santa but are looking for evidence that he actually exists. When their plan goes awry, they need all the help they can get to help Santa save the holiday! Come for the holiday feels, stay for Kurt Russell playing the coolest Santa you've ever seen. 
It's back! No holiday movie list would be complete without this quintessential Christmas rom-com that follows the lives and loves of eight strangers during one special holiday. To us, it's perfect. 
The Nightmare Before Christmas (1993), Hulu
Another classic to add to your list! In this Tim Burton holiday masterpiece, the King of Halloween, Jack Skellington, must learn the meaning behind Christmas as he tries to create some new traditions in Halloween Town. 
Krampus Unleashed (2016), Hulu 
Couldn't get enough terror at Halloween? Don't worry! In this Christmas fright fest, a group of treasure hunters awakens an ancient evil Christmas demon in their quest for treasure… Unfortunately for them, he knows if they've been naughty or nice! 
You can catch these and more on Netflix and Hulu, but make sure you can record them with Replay Video Capture!
Holiday Playlists to Keep on Repeat:
Dive into this Christmas playlist with contemporary takes on classic holiday songs, featuring some ofyouru favorite singers, like Mariah Carey, Michael Bublé, and Wham!
If you want to hear your favorites on repeat, but with a Latin twist, check out this playlist, featuring Juanes, Jose Feliciano, and Ariana Grande.
Sometimes the best vibe is to hear your favorites without lyrics.
You really can't go wrong with this soulful list of Christmas classics, featuring the Jackson 5, Donnie Hathaway and many, many more!
Who said your playlists had to be musical? This playlist is hours of Christmas classic tales, narrated by your favorites.

What never gets old? Hearing all your holiday favorites! Listen to old favorites, or even discover new versions of timeless classics on Spotify, by recording them with Replay Music!
If you're not sure how to get started, no worries… We are here to help! Take a look at our handy how-to guide, and get started enjoying the very best things about the winter holiday: cozying up with your favorites.
No matter how you plan to spend the winter break, there are plenty of ways to get cozy this season. We make capturing some of those warm and fuzzy feels so easy with Replay Video Capture and Replay Music. Make sure to get it now before the season ends!