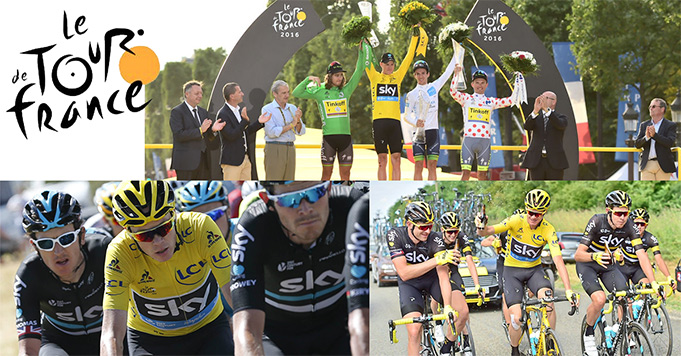 Chris Froome sped through the 2016 Tour de France finish line in first place this weekend after a dramatic, empowering weekend. Winning the titles in 2013 and again in 2015, this year he was backed by "one special team" that made all the difference.
"It has been an incredible few weeks. The strength of the team was phenomenal, we had five climbers and we've all led teams but there were no egos and everything was all about Froome," said Team Sky teammate, Geraint Thomas to UK broadcaster ITV4 after a crash on the 146 kilometer stretch on Stage 19.
With plenty of drama, endurance, team bonding and a few crashes, you can be certain there are already a ton of amazing highlight clips from the race:
Stage 12 Mt. Ventoux Crash
When Chris Froome was involved in a crash with a motorbike, he ditched his bike and ran to the finish line on foot.
The Last Kilometer
During the last stretch of Stage 21, the camera follows closely (and parallel) to the incredibly close finish.
Onboard (On-Bike) Camera
Caught from a first-person perspective, this bike camera captures some of the most speed-worthy moments of the race.
Best of 2016 Tour de France
A complete recap, including some of the most dramatic imagery and passionate finishes of the 2016 Tour de France.
Fans can use Replay Media Catcher to record, save and watch all of these amazing videos and clips from the Tour de France directly from YouTube!