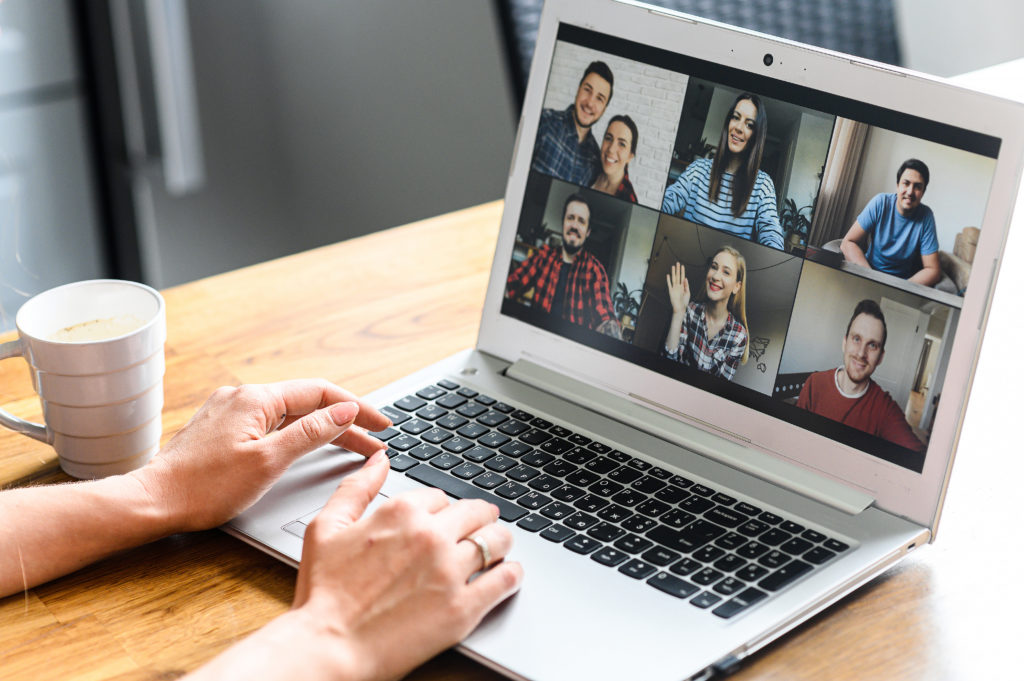 Since the pandemic first shook the world, it has impacted our lives dramatically but one of the biggest changes we've seen is in the workplace with millions of people retreating from the office to work from home. While it doesn't seem like we'll be returning to the office any time soon, the good news is that as fast as our lives have changed, so has the technology to accommodate us.
From fully-immersive video conferencing platforms to AI software allowing you to interact with your team and leverage the most capable applications out there for your business, technology has provided us with new solutions. We've rounded up some of our favourites. 
Zoom
Zoom offers an impressive range of features for video conferencing calls. Simply join a meeting by clicking on the link or typing in the meeting ID to connect with up to 100 participants. Along with quick invites and screen sharing, you can also save and document your calls with its video call recorder. This is a convenient option if you aren't a huge fan of taking notes in meetings (or are worried about sloppy handwriting).
Plus, if you do want to put pen to paper, you can always make use of the whiteboard tool which allows you to annotate the content you're sharing so you can come up with new ideas and collaborate with other users as you go along.
Microsoft Teams
If you already use Microsoft 365, you'll be familiar with Microsoft Teams as it's part of your prescription which is steadily replacing Skype for Business as a fully-integrated, communication platform.
With this app software, users can hold online meetings or webinars for 250 members, offering plenty of screen sharing options which include Desktop, Window, Powerpoint and Whiteboard, as well as the added functionality of video recording. Unlike with Zoom, your call time is unlimited which means you won't be cut off if a meeting runs a little over schedule.
Apple Facetime
Built for Apple, and for Apple alone, Facetime doesn't rank high on the compatibility scale, however the fact that it is incredibly easy to use makes it a worthy contender in our books.
Integrated as a free app in most Apple devices, you can add up to 32 users to one video call in just a few taps. While there aren't a lot of bells and whistles, Facetime is a reliable solution which can be really useful for holding more intimate video conference calls – particularly if you only have a few employees working remotely.
Better still, in addition to its usability, the new updates made by Apple only last year have provided higher resolution Facetime calls for both the new and older models with even iPhone 8 users seeing its benefits.
UberConference
UberConference gives you access to an excellent range of video conferencing features, including screen sharing, voice intelligence and HD quality video meetings.
It has a fun feature that enables you to customise the hold tone with the music of your choice, delivering a better user experience if you have to keep others waiting!
From delegating new tasks to catching up on projects, UberConference is a comprehensive platform that has everything you need in one place so your video meeting runs as smoothly as possible.
AroundTM
Debuting its new software only last year, AroundTM is set to change the face of video conferencing – quite literally! With exciting features such as AI framing and noise cancelling, it helps to minimise distractions in the background and give users a lot more privacy when working from home.
Specifically designed for laptops, unlike other apps that require you to set up dedicated teams, with AroundTM, you can work from your own personal device, no download required. It's easy to sign up, all you need to do is enter your email address and you're pretty much good to go!
Known as the platform that is "always on", you can easily collaborate with your team throughout the day yet switch off when needed.
So which software is right for your business? No matter which technology you choose to use, the most important thing is that it makes working remotely (especially in the current climate) that much easier.
---
On that note, if you're looking for an app that will propel your productivity, Meeting Recorder Plus for Windows has a range of great benefits, including its incredible video recording capabilities so you capture your conference call with stunning clarity and won't miss a minute of it! Designed to seamlessly integrate with video conferencing apps such as Zoom and Google Meet, try Meeting Recorder Plus for Windows today.