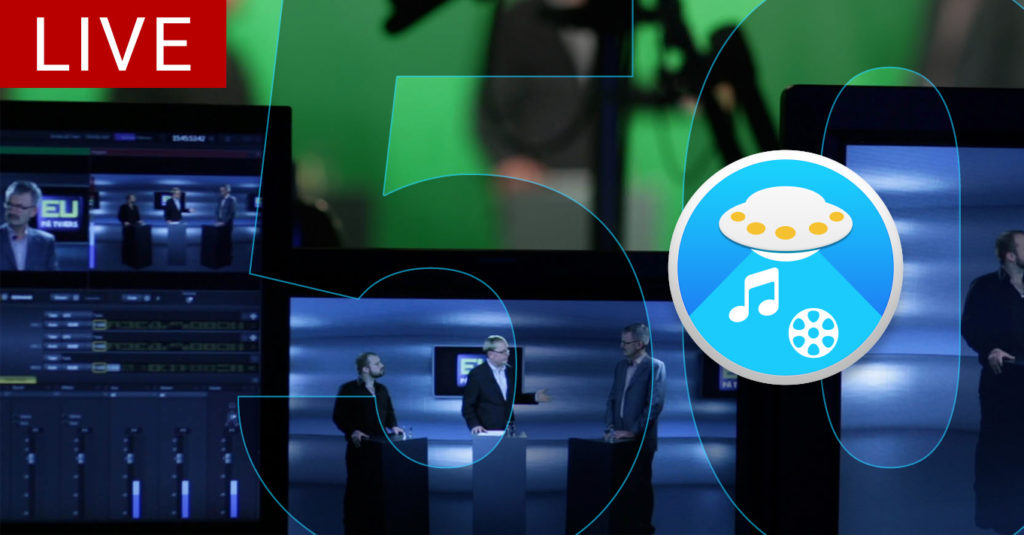 Chances are, if you've been online anytime within the past decade, you'll have seen that video streaming is everywhere. In fact, even within the last few years, streaming online has taken internet users to some pretty incredible places — whether in business, sports, or just for personal use, online streaming is being devoured by users like never before.

Now, with the introduction of live streaming video, the reach of online video is exploding like never before. People are turning to live streaming to catch their favorite events in real time, from hotly anticipated World Cup matches, to the Royal Wedding, to real-time reaction videos to online gaming, and so much more.
People are tuning in online to catch the best live streams, and it's only going to get more popular. In 2019 online, YouTube has seen a 100% increase in live stream viewers from just the year before, and this is one trend that shows no signs of slowing.

In fact, we've rounded up the hottest stats and facts about this trend that is off the charts to give you an inside look at what's trending this year in the live streaming universe; what's hot, what's on its way out, and what millions of online users swear by to make sure they've got the best streams that everyone wants.

Ready to take a numerical look at 50 of the hottest facts and stats about live streaming video in 2019? Check them out…

Live streaming by the numbers:
Compared to last year, 47% of live streaming video viewers are watching their videos live online.
20% of all Facebook videos are now live.
Facebook Live videos are watched at a rate of 3x longer than videos that have been pre-recorded.
By 2020, live streaming is expected to account for 82% of all internet traffic.
By 2025, the online streaming industry is expected to reach a value of an estimated $124.6 billion.
Got kids? If you live in a household with children, the chances of your willingness to pay for live streaming service jumps by 70%.
Live content has an emotional engagement rate of 25% with viewers, compared with on-demand viewing, with a rate of 17%.
Facebook Watch now attracts 140 million daily viewers in 2019. This number has doubled in just under 6 months.
Viewers spend 8 times longer watching live videos than videos on-demand.
67% of viewers say that video quality is the most important factor when watching a livestream broadcast in general.
90% of viewers say that video quality is the most important aspect of Facebook Live videos.
The average number of mobile YouTube video views per day is 1,000,000,000.
78% of online audiences are watching video regularly on Facebook Live.
Are you not entertained? Here's a breakdown of users' leisure time with online streaming in numbers:
Behind-the-scenes content is in demand… 87% of audiences would prefer to watch online to watching on TV if they can get a closer look behind the curtains of their favorite shows and content.
67% of audiences who watched a livestream for an event actually purchased a ticket to a similar event the next time it happened.
When asked, 45% of live video audiences said they would pay for live, on-demand or exclusive from a favorite performer, team, or speaker.
Compelling content is the primary motivator for 43% of viewers when viewing live videos online.
YouTube has over a billion users, with 80% of its views coming from outside of the US.
Not just fun and games… Live streaming a great tool for marketing and business, too:
87% of businesses now use video as a marketing tool… An increase from 63% in 2017 and 81% in 2018.
79% of customers say that a brand's video has convinced them to buy an app or software.
Companies that use video benefit from an increase of 41% in search traffic.
40% of consumers say that video increases their chances of purchasing a product from their mobile device.
For 74% of millennials, video is an important decision-making factor when they are comparison shopping online.
When it comes to content marketing, 80% of consumers say they prefer watching live videos from a brand than reading a blog.
35% of marketers are using live video to reach potential clients.
Going live on Facebook produces 6 times more interactions than traditional pre-recorded video.
Live streaming gets social:
The most watched video on Facebook live is called "Chewbacca Mom" a 2016 video with over 1.75 million views in 2019 alone.

Compared with text and images alone, videos on social media generate 1200% shares.
Top news stories make up 56% of most-watched live content.
Nearly half of Americans say they prefer to get their news online vs. watching it on TV.

More than half of adults in the U.S. (68%!) say they get their news via social media at least occasionally.
Here are just a few stats on live streaming in sports:
63% of sports fans are happy to pay for for an exclusively all-sports channel.
56% of fans who are interested in streaming sports would pay more for online streaming than for traditional TV channels.
80% of women describe themselves as sports fans, and say they are willing to pay up to 50% more for over-the-top sports content.
65% of millennials and younger viewers are viewing sports content on a mobile device.
Facebook has signed an exclusive deal to show every La Liga game for the next three seasons to over 348 million of its users in Asia.
The eSports industry is estimated to soon be worth $1 billion.
World Cup 2018 was one of the most popular live streaming events of the year, with a peak of 7.9 million concurrent plays.
How are the gamers going live?
At the moment of this publication, there are 1,321,988 live viewers on Twitch.
There were a total 916,860,960 hours watched on Twitch in the month of July this year alone.
Twitch enjoys more than 1,253,497 average weekly visitors, each spending an average of 95 minutes watching live gaming.
Since the start of 2019, Twitch viewers have watched more than 402 billion minutes of content.
82% of Twitch users say sponsorships are good for the gaming industry.
The most popular game streamer on Twitch is Ninja with 15 million followers and 479 million channel views.
Other Fun Facts:
96% of people have watched an explainer video to learn more about a service or product.
The average time spent watching video onmobile is 2.8 minutes for video on demand, while the average for livestreams is 3.5 minutes.
The average time spent watching live stream video on a tablet is 7.1 minutes.
2019 is on track to becoming a record year for online video traffic, with four-fifths of global Internet traffic regularly tuning in to watch.
In the US alone, online video is estimated to be responsible for 85% of domestic internet traffic.
Video quality matters! 23% of people who have been presented a live streaming experience with poor quality video would hesitate before making a purchase from that brand.
With all that in mind, it's great to know that Replay Media Capture is here to help you to stay ahead of the curve of every live streaming trend online, and from nearly any streaming site you can think of, and capture beautiful, high-quality recordings in the process. Make sure you're set up with our state of the art software, to keep you ahead of any live streaming trends, ensuring that you've got great quality recordings of all your most hotly anticipated livestreams–this year or in the years to come.