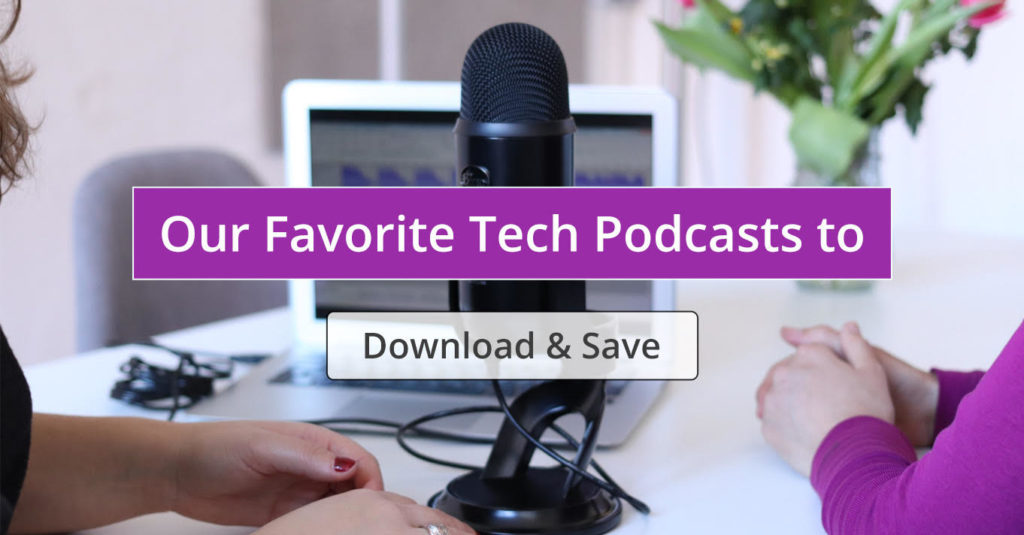 For people who are fascinated by all things technical, whether it be surfing the web to tweaking the inner workings of their computers, or for those who are just technophiles in general, it might be surprising to learn that there is an emerging tech podcast market for everyone to get their geek on. And for those who think tech podcasts are only for tech aficionados, think again.

With a veritable universe of podcasts out right now on online streaming platforms like Stitcher Radio, Relay.fm, and of course, iTunes, there really is something for everyone.

Now, with Replay Radio, you can save your absolute favorite podcast shows into a personalized schedule so that you can download and save all of your favorite podcasts while they stream. You might even discover new favorites!

Check out some of our very favorite tech podcasts here, and get ready to record to your heart's content!



In a podcast that rivals traditional radio and television talk shows, this podcast is available in both video and audio format. Hosted weekly by Leo Laporte, This Week in Tech regularly features guests, and showcases news that will keep you up to date with tech news and any major changes in the tech industry. A veteran on this list, TWiT originally began airing in 2015, and continually brings fresh content that makes it a tech fan favorite.

Download & save This Week in Tech on tunein.com!
You don't have to be a tech aficionado to recognize NPR as the gold standard in podcasts. Tuning into NPR: Technology will open up a world of tech podcast episodes, which is sure to bring you a new favorite or just mind-blowing tech content in general. The weekly collection of 30-45 minute episodes feature a random selection of NPR stories strictly related to technology and everything related.

Download & save NPR: Technology on npr.org!

Technophilia is great for, you guessed it: fans of everything tech related. From tech news to offering reviews of new apps and games or websites, it offers straight geek out material for even the most diehard of fans. What sets this show apart is that it offers a fresh, irreverent take on the themes that many shows take too seriously, and gives the listener a funny, fresh insider look at their favorite topics.

Download & save Technophilia on stitcher.com!


For true-blue tech fans, The Accidental Podcast offers listeners a truly in-depth look at some of the latest products that the industry has to offer! The hosts, who are all developers and long-time friends, offer detailed explanations about the latest industry news, and even venture into the highly specific world of coding languages. Super current, and incredibly valuable, The Accidental Podcast offers itself up as one of the best of the tech podcast universe.

Download & save The Accidental Podcast on atp.com!
For anyone who wants to dip their toe into tech, this is absolutely the podcast for them. Analog(ue) focuses on the more human side of the tech spectrum, and centers discussion around human experiences with technology. From topics ranging from how users feel about new gadgets, all the way to offering up episodes that focus on how we can better integrate tech into our everyday lives, this podcast is a bridge between the technical, the emotional, and at times, the philosophical sides of technology.

Download & save Analog(ue) on relay.fm!

For anyone who thinks tech is just for the guys, Rocket is one of the first all female tech podcasts; featuring a fresh and funny take on everything tech related, this is definitely one to lock into your playlist. Covering topics ranging from tech, comics, movies and video games, your hosts bring you just the right amount of expertise and silliness. Rocket is infectious, and the perfect podcast for anyone to geek out to.

Download & save Rocket on relay.fm!
One of the shortest podcasts on our list, with each show clocking in at just around 5 or 6 minutes, this little podcast is a great one for listeners who want no nonsense, clear tips on, navigating the digital landscape. It's great for listeners who are looking for clear, concise tips on how to protect themselves and their electronics, avoid spam, or how to guard their mobile data, this weekly podcast makes it possible to get a tech fix and get on with life.

Download & save Tech Talker's podcast on player.fm!
No matter what your level of tech expertise is, from tech newbies to even the most die-hard of fans, there's truly something for everyone!
Now go out there and start downloading these on your commute, while you work, or for a leisurely rainy-day activity. If you aren't sure how to start scheduling all your old and new favorites, take a look at our how-to guide, and get ready to get started!