Online videos are everywhere, coming in all kinds of shapes and genres imaginable. From comedy clips and music videos to exclusive series and top-grossing movies, video sites and services like YouTube, Vimeo, BBC, Ustream, and others have got it all. Online video sites are only as reliable as your WiFi connection is, though, and each website's users and top-rated channels can add or remove media without warning.
Wouldn't it be great to be able to download these videos to watch and enjoy anywhere, anytime, without interruptions? An online video grabber tool is the only way to access your favorite online videos wherever the Internet isn't, so you can always have entertainment on-hand.
How to Use the Online Video Grabber
Replay Media Catcher is the fastest, most powerful online video grabber tool to capture any video from YouTube and thousands of other media sites. Just play any video along with the software, and it will be downloaded back to your PC computer faster than real-time; 10 times faster than playback speed! Download and grab online videos with Replay Media Catcher in just a few simple steps:
1. Install the online video grabber software.
2. Launch Replay Media Catcher and turn on Auto Mode. This will keep Replay Media Catcher on the lookout for any streaming videos or online content to download and grab up automatically.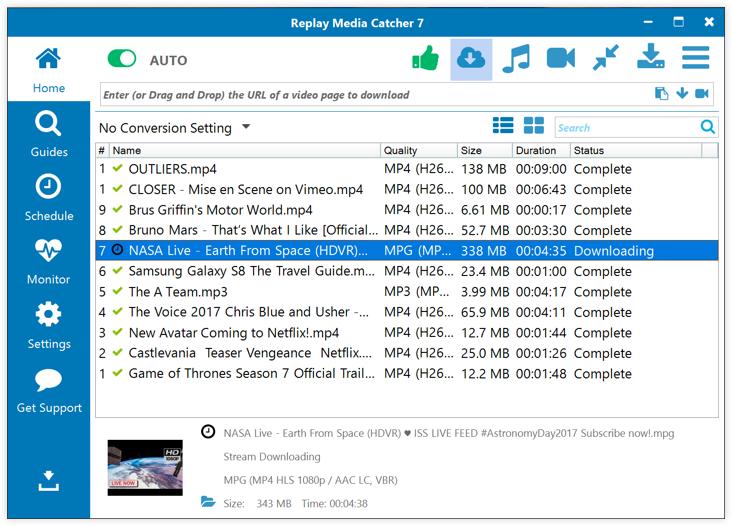 3. Open the video you want to grab and download for your own media collection.
4. Once the video has finished downloading, the file status will change to "Complete."
Once you've used the online video grabber tool, the downloaded video files can be easily transferred from your over to smartphones or tablets, burned to DVDs for personal use, or used in other programs like PowerPoint or video editors. Besides being an easy-to-use online video grabber, it also:
Automatically converts recorded files to a format of your choice.
Lets you schedule live streamed recordings.
Has embedded video and media guides to help you find interesting video content.
Ready to get started with the ultimate online video grabber?
Get Replay Media Catcher for PC