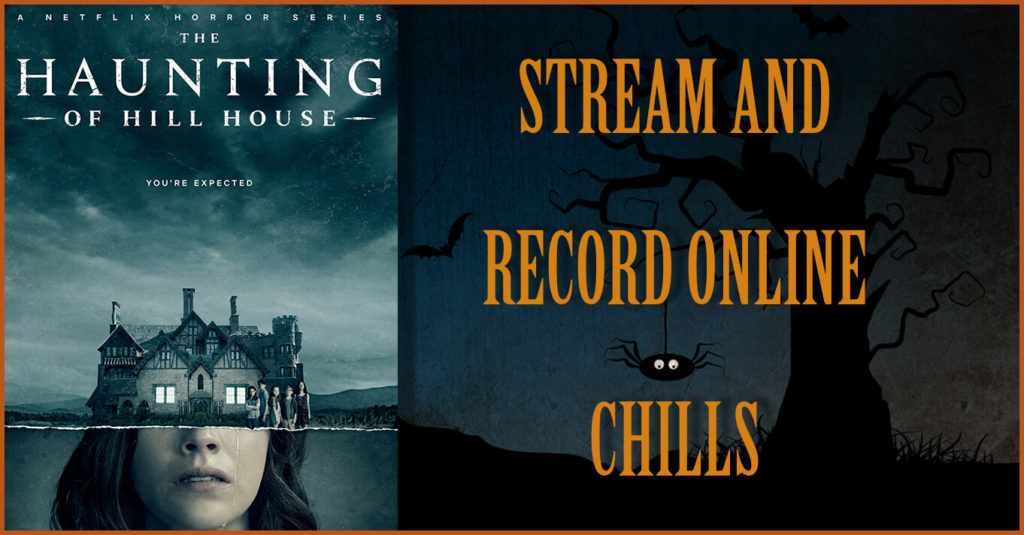 If you are anything like us, you were counting down to Halloween as soon as the temperatures started dropping. It's getting cold outside, and there really is no better way to enjoy the season than to get cozy inside and enjoy some scary movies and chills.
It doesn't matter if you are a Halloween fanatic, or if you just want to have a great list of movies to freak you out until the big day, we've got you covered. You can stream all the best scary movies using Replay Video Capture for Windows or Replay Video Capture for Mac just in time for Halloween! Not sure how to do it? Check out our handy guide here!
The Haunting of Hill House
A spin-off show based on the original 1959 movie mentioned below, this incredible new series has viewers (and the actors involved) completely terrified. The Haunting of Hill House focuses on the story of the Crain family between their past living in the Haunted Hill house, and their present-day recovery from those events. With a 92% Rotten Tomatoes score, props from Stephen King himself, and way too much proof that you might actually vomit from being so scared, we're sure it's a new Halloween classic for seasoned horror pros. You can watch and record The Haunting of Hill House on Netflix using Replay Video Capture. 
Interview with a Vampire (1994)
Can a vampire be misunderstood? It's complicated. If brooding vampires are your thing, you should definitely check out this Oscar-nominated modern classic about a vampire named Louis who gets lured into the vampire life after personal tragedy hits his family. This follows his saga and complicated relationship with the vampire Lestat as they navigate good and evil in the afterlife. You can watch and record Interview with a Vampire on Netflix using Replay Video Capture.
Paranormal Activity (2009)
This supernatural horror flick follows a young couple as they move into a new house in San Diego, which is seemingly possessed by a demonic spirit that follows them around. In this found-footage-style film, increasingly terrifying events are caught on camera as the demonic spirit feeds off of their negative energy. Have fun trying to sleep after this one! You can watch and record Paranormal Activity on Hulu using Replay Video Capture.
Children of the Corn (1984)
Children can be such a joy. Or they can be terrifying. If they are in the town of Gatlin, Nebraska, chances are they will have you fearing for your life. This terrifying classic from Stephen King is enough to make you petrified of perfect cornfields and perfectly innocent looking children forever. You can watch and record Children of the Corn on Netflix using Replay Video Capture.
House on Haunted Hill (1959)
What happens when you challenge a group of strangers to stay overnight in a haunted house for the chance to win $10,000? A night of absolute terror. Check out this classic that is filled with paranoia, terror, and yes, murder. You can watch and record House on Haunted Hill on Amazon Prime using Replay Video Capture.
Nosferatu (1931)
Before vampires were sexy, brooding, or sparkly, there was Nosferatu. This classic uses shadows and suspense to create an atmosphere of sheer terror that can't be missed. Often billed as one of the scariest movies of all time, this silent movie is a precursor to Bram Stoker's "Dracula", but stands in a class of its own. You can watch and record Nosferatu on Amazon Prime using Replay Video Capture.
The Others (2001)
In this bleak horror classic, a family becomes obsessed by the otherworldly presence that seems to be taking over their house. With plenty of twists and dread, this may be the perfect horror movie to watch and re-watch. You can watch and record The Others on Hulu using Replay Video Capture.
Check out our step-by-step guide for how to download anything on Netflix, Hulu & more with Replay Video Capture and be able to watch your favorite streaming media anytime, anywhere!