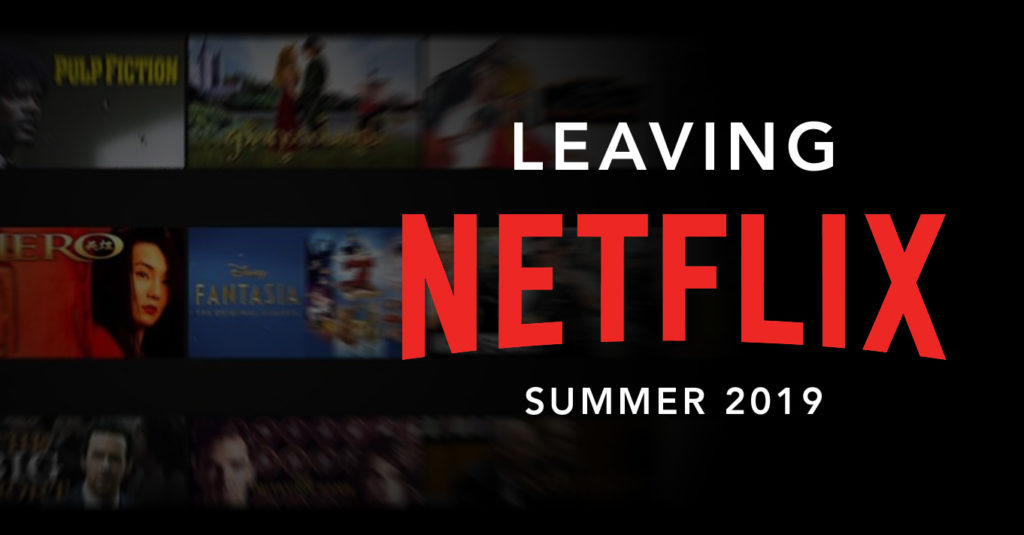 Netflix has built a pretty great reputation for putting out quality shows, and hosting a wide range of content that you can't find anywhere else. It's also just as famous for cycling out fan favorites, in order to make room for new hits in their catalog. So what's a viewer to do? By now, you know it's pretty key to always record your Netflix faves so that you can watch them over and over, or even just watch them on your own time!

With that in mind, we've rounded up some of the most popular movies and shows that are leaving Netflix this summer. With Replay Video Capture in your toolkit, you can keep all your favorites, without worrying about losing them forever. Even if watching Christmas movies in July is your thing, Replay Video Capture has you in good hands.

What are some of the movies that are making their exit from Netflix this summer? Take a look at our list, make sure to save your favorites!

Just in time for wedding season, this summer smash hit is loaded with some of your favorite comic giants. Before Bradley Cooper's turn in "A Star is Born", he was Luke Wilson's douchey rival in this comedy classic for the ages. Vince Vaughn and Wilson are a hilarious duo that make a tradition of crashing weddings to have fun, meet women, and generally have a smashing great time. Their epic season takes a turn as they come face-to-face with Crashers Rule #22: "You have a wedding and a reception to seal the deal. Period. No overtime." Will they uphold their reputation as the heart of the party? Or will they follow their hearts?
In this multi-sequelled sci-fi hit, a cyborg assassin from the year 2029 is sent back to 1984 to kill the woman whose son will become the future savior of mankind. Humankind's ultimate enemy? The cyborgs. In an effort to stop the assassination, soldier Kyle Reece is sent back in time to pursue the cyborg, and carry out one mission: Save Sarah Connor, by any means necessary. Catch this classic that spawned the epic quote "I'll be back", and launched Arnold Schwarzenegger into superstardom.

In this magical and highly awarded film, director Alfonso Cuarón takes us into the world of Ofelia, a young girl living through the Spanish Civil War. Her life is uprooted after the death of her father, and her mother's subsequent marriage to a cruel military officer. The film manages to cross over between the mysterious creatures of the labyrinth and the practical world in which she lives. The result is a visually stunning and enthralling movie that everyone will love.
This mind-bender has become a modern classic for its use of special effects and its epic and allegorical story. In the first installment, we are introduced to Neo, a young man going through the motions of his unremarkable life, when he becomes embroiled in a mind-expanding adventure that has us all questioning the meaning of life as we know it.  Capture each part of the trilogy and save it to watch for when you have time to get lost in its many layers.

No one does cool better than Paul Newman. Catch him in this classic that solidified him as an icon of American cinema. This movie introduces us to Luke, an ex-soldier who is sentenced to two years in a Florida prison. What makes this psychological prison drama a classic is Luke's refusal to submit to an arbitrary system of power and punishment, and it asks the viewer to do the same.

If a comedy is more your thing, be sure to catch Dumb and Dumber before it's too late. Jim Carrey and Jeff Daniels are timeless in this hit about two friends who take on an epic road trip in pursuit of the perfect girl that Carrey's Lloyd has his eye on. The antics they get into will stay with you, and you'll finally understand some major pop culture references that your friends have been quoting since the beginning of time. A great comedy to watch and re-watch.

In this epic spy spoof to end all spy spoofs, Mike Myers creates and stars as the character of Austin Powers, an outrageously flamboyant British spy from the swinging 1960s. Netflix is offering two Austin Powers flicks: The International Man of Mystery, and its sequel, The Spy Who Shagged Me. Don't miss the chance to laugh out loud as Austin takes on his arch-nemesis Dr. Evil (also played by Myers), and a whole host of spy movie tropes that unravel under Myers' satirical looking-glass.

The only series on our list, Pretty Little Liars is the hit that launched quite a few careers. Set in a suburban Pennsylvania town, this hit show is based on the mystery surrounding the unraveling secrets of a group of friends. Once inseparable, the friends find themselves torn apart after the disappearance of the leader of their friend group. They are brought together again after they start receiving mysterious letters from "A" who seems to be out for revenge. This is a great one to record and save for binge-watching. Just make sure you can save it to your personal watchlist before it leaves Netflix for good!

Don't wait to record your favorites… These titles are only on Netflix for a few more days, so make sure that you've got Replay Video Capture locked and loaded. You'll be glad you have them all to watch when you are watching with the AC blasting this summer!