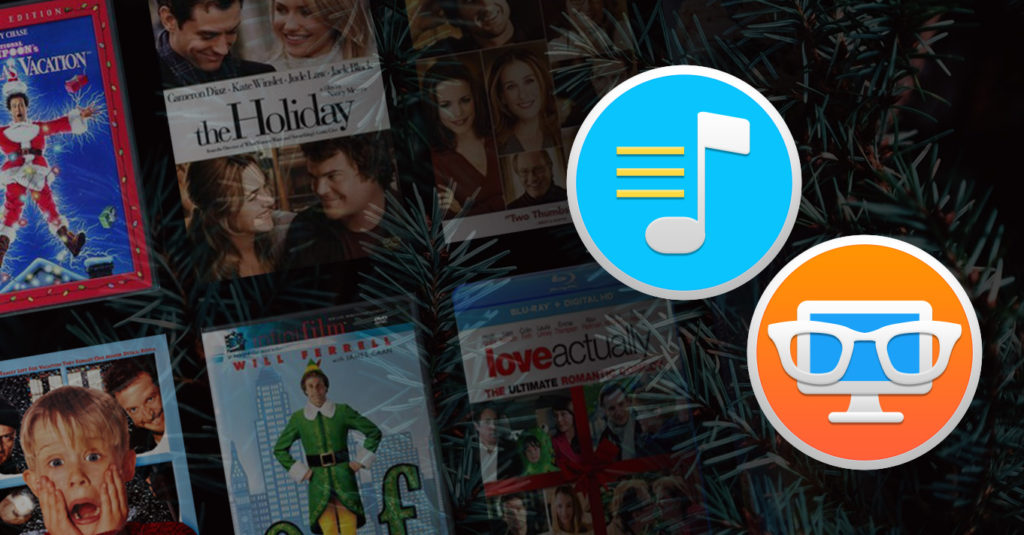 The holidays are here! Which means a lot of sweets, spices, snow (if you're lucky), and fun things to keep you warm and cozy while you are spending your frosty winter days inside.
Whether you are into cozying up with some old (and new!) favorite holiday movies, or if music is your favorite way to get into the holiday groove, we've rounded up some of the best movies and playlists to keep you company while you spend those toasty, cozy days at home.
Luckily, Netflix and Amazon Prime Video have been releasing some of the freshest new holiday releases on offer, along with bringing back some genuine classics. This year, Disney+ is even getting in on the action, and there are too many great titles to that you won't want to miss!
And if you want to get your holiday groove on? Look no further than Spotify to hear all of those jingles and jams. 
If you want to collect all your holiday favorites to add to your own collection, we've got you covered! With Replay Video Capture and Replay Music, you won't have to miss the chance to have any of your favorites!
Holiday Movies to Stream & Save:
In Netflix's first original animated feature, we get to meet Jesper, a lackluster postman who gets stationed in a faraway town in the North. While there, he befriends a lonely toymaker who is harboring some holiday secrets. A new release from Netflix that you won't want to miss! 

Is it even the holidays without this classic on the list? For the uninitiated, this Christmas classic follows George Bailey as he contemplates his own life, after being visited by an angel on Christmas Eve. There is a reason this movie has withstood the test of time… Make sure to keep it on your list…

It's here! The only place you can catch Home Alone streaming online this year is through Disney+… Get ready for all the nostalgic feels as you revisit Kevin McAllister navigating his first Christmas alone at home while his family accidentally takes off on a family vacation without him. Naturally holiday chaos ensues… Did someone call the Wet Bandits?

Want to get away this holiday season? You're not alone. This modern holiday rom-com follows two women on separate continents as they give themselves the ultimate gift: a house swap that gives them the chance to change their lives. Will they find love and find themselves?

Thought you were excited for the holidays? No one is more excited than Buddy the Elf. The only problem? He's not really the elf he thought he was. A search to find his real father takes Buddy to New York City on a holiday adventure where Buddy learns the real meaning of family.
It's back! No holiday movie list would be complete without this quintessential Christmas rom-com that follows the lives and loves of eight strangers during one special holiday. To us, it's perfect.
Another classic to add to your list! In this Tim Burton holiday masterpiece, the King of Halloween, Jack Skellington, must learn the meaning behind Christmas as he tries to create some new traditions in Halloween Town. 
You can catch these and more on Netflix, Disney+ and Amazon Prime Video, but make sure you can keep them with Replay Video Capture!
Holiday Playlists to Keep on Repeat:
Dive into this Christmas playlist with contemporary takes on classic holiday songs, featuring some of your favorite singers, like Mariah Carey, Michael Bublé, and Wham!
If you want to hear your favorites on repeat, but with a Latin twist, check out this playlist, featuring Juanes, Jose Feliciano, and Ariana Grande.
Sometimes the best vibe is to hear your favorites without lyrics.
You really can't go wrong with this soulful list of Christmas classics, featuring the Jackson 5, Donnie Hathaway and many, many more!
Who said your playlists had to be musical? This playlist is hours of Christmas classic tales, narrated by your favorites.
What never gets old? Hearing all your holiday favorites! Listen to old favorites, or even discover new versions of timeless classics on Spotify, by recording them with Replay Music!
If you're not sure how to get started, no worries… We are here to help! Take a look at our handy how-to guide, and get started enjoying the very best things about the winter holiday: cozying up with your favorites.
No matter how you plan to spend the winter break, there are plenty of ways to get cozy this season. We make capturing some of those warm and fuzzy feels so easy with Replay Video Capture and Replay Music. Make sure to get it now before the season ends!
Updated from original post from 12/19/18.