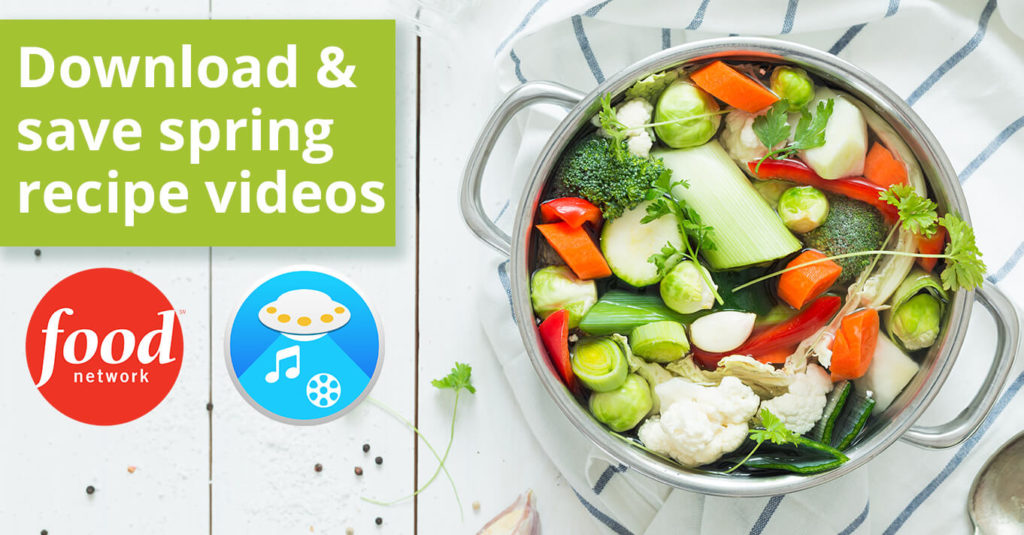 It may not feel like it everywhere quite yet, but believe us: spring is here! That means, get your kites ready, start putting your winter boots away, (get out your allergy meds!) and get ready to enjoy the upcoming festivities and sports events! (Hello, March Madness!) And while there are no shortage of fun ways to enjoy one of the freshest seasons of the year, there really is no better way to kick it off than to enjoy some delicious spring recipes, featuring some of the best flavors on offer this season.
Thankfully, FoodNetwork.com has some pretty great spring recipes, featuring some of our favorite chefs, and not to mention some of freshest ingredients to savor this season.
While you are enjoying those fun springtime activities, you don't have to miss a single thing, because with Replay Media Catcher, you can download and save some of your favorites, and still enjoy all of the best flavors this season has to offer.
Here are some of our favorites:
Appetizers
Jeff's Spring Pasta Salad

Looking for a fresh and filling way to enjoy some of the veggies of the season? This pasta salad from Chef Jeff is a great way to have a healthy and satisfying helping of spring's most delicious herbs and produce.
Vietnamese Fresh Prawn Spring Rolls

We can't think of a fresher appetizer than spring rolls… Filled with flavor and delicious veggies that can be enjoyed at any temperature, Chef Donal Skehan shares his recipe for this tasty classic.
Don't miss any spring appetizer ideas! You can download recipes online using Replay Media Catcher.
Main Dishes
Spring Green Risotto

There is no better time than spring to try giving a vegetarian entree a shot! We couldn't think of a better one than this hearty spring green risotto; a great recipe to try a fresh take on a classic, easy, go-to dish!
Argentinian Skewers with Sherry Vinegar Steak Sauce and Spring Onions

Who said springtime is too early to fire up the barbecue? Bobby Flay serves up this savory entree that makes use of the flavors of the season bringing us a delicious marinade for the perfect Argentinian-style steak skewers.
Vietnamese Chicken Tacos

If you are in the mood for a light but satisfying main dish, look no further than these Vietnamese Chicken Tacos by Chef Reza. With so much flavor, it's sure to be a hit at your next dinner with family or friends.
Spiced Mojito and Sea Bass Ceviche

There really is no shortage of ways to make this classic Peruvian dish. We love this recipe because it offers a delicious take on a classic, as well as an accompanying drink to bring out the flavors perfectly.
Never miss a main course – use Replay Media Catcher to download all your favorite spring meal ideas.
Desserts
Chocolate & Coconut Flan Cake

This flan recipe is a marriage of some of our favorite flavors and textures! It's a great, light way to add a sweet touch to any spring dish.
Special Day Italian Cream Cake

With the wealth of spring holidays coming up, there is always a great day for a sweet, tasty, light treat to make it special. This creamy, fruity cake adds a great touch to any meal, or all on its own.
Find your favorite spring sweet treats and record them using Replay Media Catcher!
This season, make the most of the freshest flavors of spring! And to help you make sure that you don't miss a single minute of the best content online, there's Replay Media Catcher. Not sure how to use it? Check out the Replay Media Catcher How-To Guide and get started!