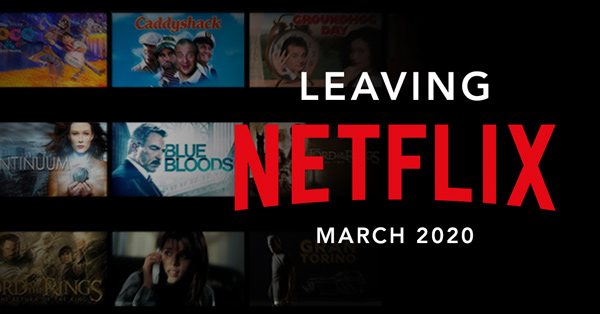 It's spring cleaning time for all of us, and Netflix is jumping on the bandwagon by updating its roster of offerings, just in time for the warmer months. While we'll need to say goodbye to some notable TV shows and movies, we can also pull out the elcome mat to some highly anticipated offerings like Silver Linings Playbook, Goodfellas, Anna Karenina, The Shawshank Redemption and many more!

With Replay Video Capture, you can record your favorite shows and movies before they are slashed from the Netflix roster. Don't delay though in recording these offerings, they'll be gone from Netflix before you know it!

What's On It's Way Out?
March 9
Eat Pray Love
March 14
Men in Black
Men in Black II
Mystery Science Theater 3000 Collection : Classic: Collection 3
March 15
Coraline
March 17
Being Mary Jane: The Series: Season 1-4
March 19
The L Word: Seasons 1-6
Zodiac
March 24
Disney's A Wrinkle in Time
March 30
Batman Begins
Charlie's Angels
Charlie's Angels: Full Throttle
Death at a Funeral
Drugs, Inc.: Season 5
Hairspray
Kill Bill: Vol. 1
Kill Bill: Vol. 2
New York Minute
P.S. I Love You
Paranormal Activity
Small Soldiers
The Dark Knight
The Lord of the Rings: The Return of the King
The Lord of the Rings: The Two Towers
Wild Wild West
As we say goodbye to this impressive list of TV shows and movies, it's time to queue up the microwave popcorn and capture these soon-to-be offerings on Netflix.

What Are We Looking Forward To?

A mob crime classic directed by Martin Scorsese in the early 1990's, GoodFellas is an adaptation of the 1985 non-fiction book "Wiseguy" by Nicholas Pileggi, who also co-wrote the screenplay with Scorsese. The movie depicts the rise and fall of mob associate Henry Hill and his friends and family from 1955 to 1980. Don't miss Robert De Niro, Joe Pesci and Ray Liotta in what is widely regarded as one of the greatest films in the gangster genre.
Elite (Season 3)
Elite is a racy Spanish teen show that has captured audiences from all over the globe. The series follows three underprivileged pupils who join Las Encinas, a private school attended by the children of the privileged and wealthy, when a murder takes place. The mystery of who killed Marina (María Pedraza) begins to unfold, as well as the events leading up to her death.
Silver Linings Playbook is a romantic comedy-drama film, adapted from Matthew Quick's 2008 novel "The Silver Linings Playbook". Former teacher Pat Solitano (Bradley Cooper) moves back in with his parents after losing his job, and being released from a mental institution. Wanting to rebuild his life and reconcile with his ex-wife, things get a little complicated when Pat meets Tiffany (Jennifer Lawrence). She offers to help him reconnect with his wife, but only if he will do something very important for her in exchange.
"Self Made" stars Academy Award Winner, Octavia Spencer, in the untold, true story of black hair care pioneer and entrepreneur Madam C. J. Walker. The series highlights how she overcame post-slavery racial and gender biases, rivalries and personal betrayals, tumultuous marriages and family issues to eventually become America's first black, self-made female millionaire. The movie was inspired by "On Her Own Ground: The Life and Times of Madam CJ Walker", written by A'Lelia Bundles, Walker's great-great-granddaughter.
"Unorthodox" is the story of a young ultra-Orthodox Jewish woman who leaves her arranged marriage and religious community in New York to start a new life abroad in Berlin. However, just as she begins to find her own way, on the road to a new life, the past begins to catch up with her. The series was inspired by Deborah Feldman's New York Times Bestselling book, and it stars Shira Haas, Jeff Wilbusch, and Amit Rahav.
We've rounded up quite the selection of TV shows and movies for you to check out this month. Before you do that though, you'll want to capture those that are leaving the streaming service so that you don't miss out! With Replay Video Capture, you can bet you'll be able to watch and capture all your favorites.

Not sure how to get started with Replay Video Capture? We've got you covered. Just take a look at our handy how-to guide to learn how easy it is to catch all your favorite movies and series before they disappear. The only catch? You've got a grand selection of offerings to choose from, and our advice is to get started on sorting through it as soon as possible! Be sure to download the latest version of Replay Video Capture so you won't miss out!