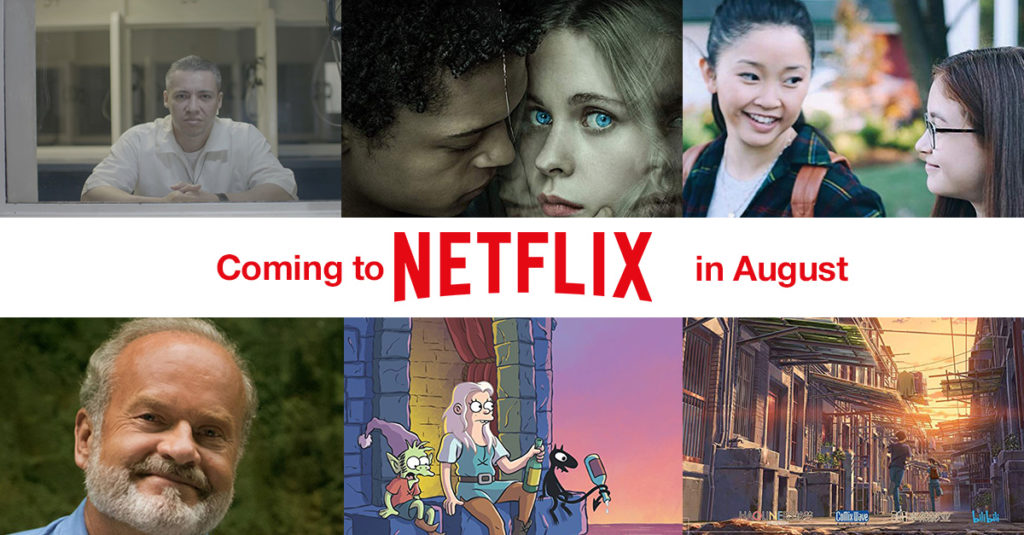 Netflix is brimming with a ton of original content, fresh new seasons, and awesome movies coming to their catalog in August. With a ton of plans through the end of 2018, as well, our favorite streaming platform online has a lot going on that we're trying to keep up with. As we impatiently wait for the arrival of next month's great new content, we thought we'd take the chance to round up some of what we're most excited for.
Prepare yourselves for a fantastic month – and even better rest of the year – when it comes to new entertainment on Netflix! Here are some of the top titles that are coming new to Netflix in August.
I Am a Killer
When: August 3, 2018 // Type: Docuseries
In association with Netflix and A&E, this British production takes an in-depth look at the stories of prisoners on death row in America. With incredible storytelling that shows us the many sides of each inmate's story, the docuseries is made up of one-hour episodes that feature 10 different prisoners.
Watch + record I Am a Killer from Netflix.
Like Father
When: August 3, 2018 // Type: Movie
Kristen Bell plays a complete workaholic who is ditched at the altar, left to figure out her life and what to do with her fully-planned honeymoon. Kelsey Grammer plays her estranged dad, who ends up joining her on her all-inclusive Caribbean cruise getaway. While the pair may not start out super close, there's a lot of room for growth in this comedy-drama.
Watch + record Like Father from Netflix.
Flavors of Youth
When: August 4, 2o18 // Type: Movie
Another amazing combination, Netflix has also teamed up with CoMix Wave Films to create Flavors of Youth, a beautiful tale of growth, nostalgia, and time itself. Told in three chapters that are each set in different cities within China, the film "explores the simple joys of life through sensual memories and how the beating heart of love cannot be defeated by the flow of time."
All About the Washingtons
When: August 10, 2o18 // Type: Movie
What happens when a hip-hop legend decides to take a few steps away from his career and become a stay-at-home dad? Obviously a lot of funny life lessons and heartwarming moments. Known for his time with the iconic group Run-D.M.C., Rev Run and Justine (his wife) star in this slightly fictional, mostly hilarious sitcom that we can't wait for.
Watch + record All About the Washingtons from Netflix.
Disenchantment (Season 1)
When: August 17, 2018 // Type: Animated Series
Matt Groening had never stepped a foot into the world of Netflix… until now. His first ever exclusive project with them, Disenchantment, already has fans of Futurama and The Simpsons counting down until the release date. Based in a fairytale gone wrong, the main characters include a mostly-drunk princess and her personal demon, among many other.
Watch + record Disenchantment from Netflix.
To All the Boys I've Loved Before
When: August 17th, 2018 // Type: Movie
Following its recent string of successful, original romantic comedies, To All the Boys I've Loved Before chronicles the life of a lovesick girl who writes letters to her past crushes. Plot twist – the love notes are suddenly released and she has to confront each and every one of her exes in a series of hilariously awkward moments.
Watch + record To All the Boys I've Loved Before from Netflix.
The Innocents (Season 1)
When: August 24, 2018 // Type: SciFi Series
A young teen couple has escaped the confines of a home life-prison situation in this supernatural series from Netflix. The only big problem? They're being hunted down for the special powers they have. We don't know too much about what this show will entail, but it looks like a thrilling adventure.
Watch + record The Innocents from Netflix.
Ghoul (Season 1)
When: August 24, 2018 // Type: SciFi Series
Netflix's very first horror miniseries is coming soon, co-produced by Blumhouse (Insidious, Get Out) and filmed in India. The sinister-looking Netflix original, Ghoul, follows "a prisoner who arrives at a remote military interrogation center and turns the tables on his interrogators, exposing their most shameful secrets."
Watch + record Ghoul from Netflix.
Ozark (Season 2)
When: August 31, 2018 // Type: Drama Series
One of Netflix's highest-ranked original shows to date, Ozark is just about back for a second season. The teaser trailers have been intentionally vague, but we can tell one thing: the Byrdes appear to be in the midst of being hunted. With a ton of dark scenes and dangerous escalations, season 2 of Ozark is bound to keep us at the edge of our seats.
Watch + record Ozark from Netflix.
With all these amazing new movies and shows on Netflix, you should be set until the next month of new content arrives. With Replay Video Capture, you can record anything from Netflix to watch and enjoy later – it's the perfect tool for building up your personal media library with all the best entertainment that Netflix has to offer!
Get Replay Video Capture for Windows or Replay Video Capture for Mac to download and save all of your favorite Netflix movies and shows!