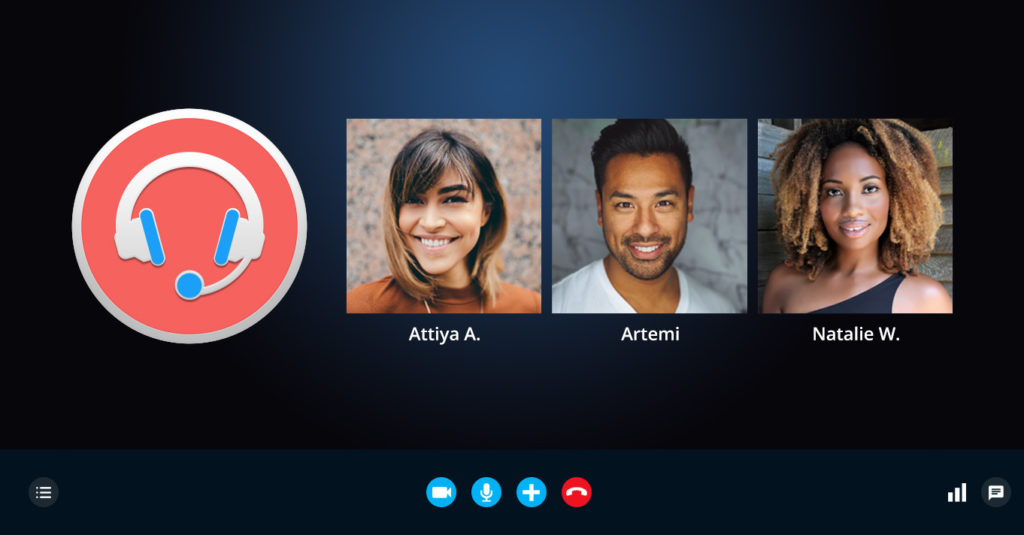 As more of us are being called upon to #stayathome, the more creative people are getting about reshaping their daily lives online.
It's more important than ever to stay connected, and nowadays there are hundreds of ways to do it. Whether we are looking to connect professionally, personally, or purely for social reasons, staying at home is still a great opportunity for people to meet and get together.
To do so, people around the world are turning to video chat giants like Zoom, Google Hangouts and Skype among others, making sure that they are able to not only get in touch with groups of people, but also to do it in a variety of ways. With Replay Telecorder, you can be sure to record your virtual events so that you can always playback your favorite moments.
What are some of the best opportunities to get together?
Connecting Remotely with Your Work Team:
If you work from home, then connecting with your team is a must. From creating a supportive environment in your home office, to managing essential planning meetings, connecting is crucial. One of the most effective ways that remote teams stay connected is to make sure to set up regular times to meet and connect virtually. With Google Hangouts, Zoom and Skype, your meetings can accommodate teams of any size. Make sure that you keep track of important information by keeping a recording of your virtual meetings.

Staying Fit While #stayinghome:
You'd be amazed at the variety of fitness classes that are being offered online. From free fitness routines that you can find on YouTube, to the fitness class offerings that are opening up online, there is no reason to fall off of your fitness routine. But if you are like most, then it's likely that having a fitness buddy (or a group of them) is your best motivator. Cue up your favorite online workouts, and then hop in a Hangout with your favorite workout partners to keep those endorphins pumping! Don't forget to record your workout, so that you can practice those moves next time.

Playing Your Part in Interactive Game Nights:
Most games are made to be played with other people. Taking advantage of video conference rooms to hold a game night with your favorite people can be a great way to stay connected. With the option to create a grid of all chat members, it's a great way to create teams if your group is large enough. Record the action so that you can replay and share your favorite moments. A great app for this is Houseparty, which comes with a selection of games to play with your friends, and its split-screen capabilities keeps games fun and fast-paced for everyone. All you need to do is invite your friends.

Hosting A Karaoke Night:
If you're looking to keep your spirits up, one way to do it is by hosting a virtual happy hour, featuring your favorite karaoke songs. You may want to share one (or a few) of your favorite seasonal recipes with your friends, and then join each other for a night of belting out your favorite sing-alongs. If you want to mix it up with your mixers, try adding in some trivia about your favorite bands before you start so that you can bring your virtual karaoke night to the next level. Just make sure you don't miss a moment of it.

Throwing A Virtual Book Brunch:
Few things are as restorative as joining up with a group to have a deep chat over a great book and delicious food. If themed brunches are your thing, you can set up the theme of your brunch to coincide with the topic of your selected reading. Connect with friends worldwide if you really want to add to the fun. It may become the highlight of your week.

When it comes to linking up online, the possibilities are endless, and they keep growing everyday. All you need is some imagination, a great idea, and the perfect tools to make sure that you don't miss out on a single minute. Our pick? Replay Telecorder. It can record any video conferencing applications in background mode, so you can enjoy an uninterrupted connection.
How does it work?
Get your group together. You can invite your group attendees manually or just make sure everyone has a custom link to the meeting. That way you can keep them private and invite only who you want.
Start your video conferencing application. Replay Telecorder works great with Skype, Google Hangouts. Zoom, and any application with similar features.
Record and save for playback later. As soon as you join the call, just hit "Record" and you're all set. You can stop recording anytime you like. It's really that easy.
Getting started is easy. Get your group together, get creative, and then make sure you have the latest version of Replay Telecorder, so that you can save the best moments (or save your best moves to practice) for later. With the right tools, your house may become your favorite place to meet up with your favorite people!
Get Started With Replay Telecorder