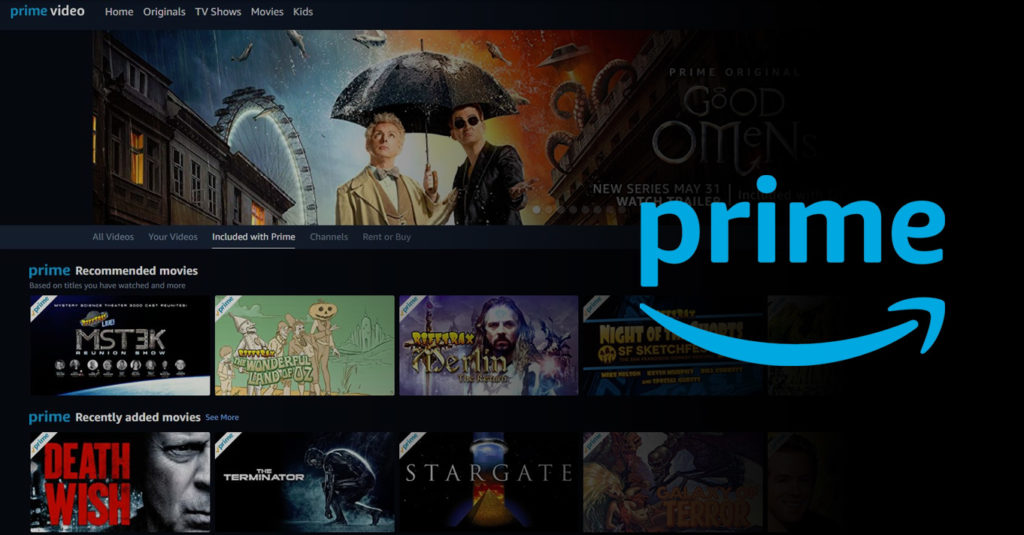 Just because the summer is winding down doesn't mean the heat is letting up.

What better way to enjoy the dog days of the season than to crank up the AC and binge-watch some of the best original shows and movies Amazon Prime Video has to offer?

We often think of Netflix as the reigning champion in movies and shows streaming online, but there is so much out there! From Philo TV to Hulu and more, there are plenty of ways to get your video streaming fix. But of all the choices available today, one to look out for is Amazon Prime Video.

While it steadily builds up a stronger catalog (which luckily has access to the backlog of HBO original content), what really sets Amazon Prime Video up as a fierce contender in the online video streaming universe is it's growing list of award-winning original titles. In fact, we'll bet that some of the hottest shows of the moment that all your friends are watching are headlining right now on Amazon Prime Video. And while it functions similarly to many of your favorite online streaming services, the original content they are serving up is unbeatable, and strictly their own.

Check out our list of incredible shows from Amazon Prime Video, then get the latest version of Replay Video Capture, so that you can record the latest (and greatest), of all the hit series your friends have already been watching!

In arguably one of the most popular titles on our list, this award-winning stunner stars breakout star Rachel Brosnahan playing the titular Midge Maisel. After a series of events shocks her perfect world, the beautiful and tenacious heroine takes to the stage to take a crack at becoming a comedian. The show is pitch perfect as it takes on the challenge of blending the challenges of a housewife finding an unexpected new life path in the 1950's with heart and humor, creating a memorable story for each character. You'll leave you feeling triumphant after each season and ready to watch the next one!

Capture and Save Seasons 1 and 2 on Amazon Prime Video!

In a show that turns the dystopian future concept on it's head, this 1960's era original series asks every viewer to reconsider the past. "What if….?" is the question it poses, as we are asked to imagine a world in which the Second World War was actually won by the Nazis, and America was forced to become a divided battleground for opposing axis powers. Relevant and affecting, this series, based on the Phillip K. Dick novel of the same name is bound to get you hooked from the first moments in.

Capture and Save Seasons 1 through 3 on Amazon Prime Video!
In a sleeper hit that features Bryan Cranston (yes, of "Breaking Bad" acclaim) as executive producer, this series follows recent ex-con Marius as he gets out of prison. With every intent to start fresh, his old life threatens to suck him back in, and he must stay two steps ahead in the ultimate con to keep everything from falling apart. With his brother in immediate danger, he assumes the identity of Pete, his now dead ex cell-mate, and infiltrates Pete's former life in order to pull off the biggest heist ever. Featuring award nominee Giovanni Ribisi as Marius/"Pete", and a sinister Bryan Cranston as Vince Lonigan, this show is at once dark and funny, and will guarantee you the ride of your life.

Capture and Save Seasons 1 through 3 on Amazon Prime Video!

In this carefully crafted detective drama series, we are introduced to Detective Harry Bosch (played to perfection by "Deadwood"'s Titus Welliver). A righteous but complicated law enforcement agent who goes renegade as he is trying to get to the bottom of increasingly grisly murders. Set in a richly painted, imperfect Los Angeles, the show is the perfect police drama for people who love police dramas, but even more impressive is the finely-wrought storytelling and superb acting from its cast.

Capture and Save Seasons 1 through 5 on Amazon Prime Video!

Continuing its love affair with the eponymous sci-fi writer Phillip K. Dick, this original Amazon Prime Video offering is a sci-fi ride that is set to rival "Black Mirror". The biggest difference though, comes from its tone. While each standalone episode in this mind-bending series is still eerie,"Electric Dreams" is infinitely less bleak and is, dare we say hopeful even, about the future of mankind. This one features some of your best loved actors, like Steve Buscemi and Anna Paquin among others, and is definitely not to be missed.

Capture and Save Season 1 on Amazon Prime Video!

In the buddy comedy for the ages, this series teams up an angel from Heaven and a demon from Hell as the most unlikely pair of anti-heroes who must join forces in order to reach a common goal: finding the Anti-Christ before he brings forth the end of the world. While their tactics are the polar opposite to the other, they are united as they go on their mission, which often brings them face to face with some familiar yet creepy characters (The Four Horsemen of the Apocalypse, anyone?) This otherworldly comedy is sure to keep you laughing out loud.

Capture and Save the First Season on Amazon Prime Video!

This raw, funny, and deeply moving family drama explores the deep love, complexities and oftentimes, secrets that families share. In this series, we get a glimpse into the lives of the members of the Pfefferman family, whose secrets are brought to the surface at the revelation of a massive truth: the father (played by Jeffrey Tambor) has recently come out as transgendered. What follows is a deeper look at each member of the family as they navigate the new normal in their lives, and are bound together by their biggest truth: love is unconditional.

Capture and Save Seasons 1 through 4 on Amazon Prime Video!
For fans of the original Top Gear, your favorite automotive enthusiasts are back, in a joyride of a comedy series. This time the cars are wilder, the stunts more elaborate, and the jokes are even more outrageous. Follow Jeremy Clark, James May and Richard Hammond as they take their exclusive car models out for a test drive outside of the studio and across the globe, giving you an exclusive look at some of the most extreme car types on the planet.

Capture and Save Seasons 1 through 3 on Amazon Prime Video!

If you're looking for a little bit of inspiration, look no further than this original series that features poems, news, short comedy skits and the very personal stories of people who are experiencing some of the most pressing issues of our times. What makes this stylish serial especially extraordinary is its non-biased lens that studies its subjects, sharing various sides of the same issue. It presents as a living, breathing editorial, and is sure to provide an awe-inspiring look into our most human sides.

Capture and Save Season 1 on Amazon Prime Video!

Your comedy faves Fred Armisen and Maya Rudolph team up as husband and wife in this comedic and slightly dark series, featuring plot twist after unexpected plot twist as they navigate the highs and lows of a life that's become predictable. For lovers of SNL and Portlandia, you won't be disappointed with this one, but it's Rudolph's portrayal as the leading lady that makes this comedy immensely watchable.

Capture and Save the First Season on Amazon Prime Video!

Don't miss out on capturing these originals and creating your own binge-worthy playlist…. Download Replay Video Capture, or make sure to get your upgrade to make sure you catch all your favorite titles. With Replay Video Capture, you have the perfect arsenal to accompany you in those blissful days of maxing out the AC while you ride out the rest of your summer with some of the best shows available.